Thanksgiving is right around the corner! We all know what that means… lots of cooking! Gluten-free living can be incredibly challenging during the holidays, but we're here to lend our support. By sharing simple gluten-free recipes, we'll help take the guesswork out of menu planning so you can show your family how delicious gluten-free can be! Here are a few of our all-time favorite recipes, including scrumptious sides to add to your holiday lineup.
Au Gratin Potatoes
Potatoes Au Gratin is a holiday classic! Our gluten-free version has hot bubbly cheese sauce, layers of thinly sliced potatoes, and a crunchy breadcrumb topping. Get ready to double the recipe!
Ingredients:
4 Russet Potatoes
1 White Onion
3 Tbsp. Gluten-free Flour
3 Tbsp. Butter
2 C. Whole Milk
2 tsp. Salt
1 tsp. Black Pepper
¼ tsp. Nutmeg
¼ tsp. Rubbed Sage
1 C. Gruyere Cheese, grated
1 C. Sharp Cheddar, grated
3 Slices Canyon Bakehouse Bread, stale or toasted and grated
Directions:
Preheat oven to 400 degrees and prepare a 9×12 baking dish with butter or cooking spray.
Peel and thinly slice the potatoes and onion. Alternating, layer them into the baking dish.
Melt the butter in a 3 qt. stockpot. Whisking, add the flour and cook for 1-2 minutes.
Continue whisking the butter and flour mixture and slowly add the milk. Add the seasonings and bring the sauce to a simmer.
Once the sauce begins to thicken, fold in the grated cheeses, reserving ½ C. for the top.
Lifting the layers, pour the sauce onto the potatoes and onions, allowing it to soak in.
Top the casserole with the remaining shredded cheese and the breadcrumbs.
Cover the casserole with foil and bake for 1 hour. Remove the foil for the last 15-20 minutes to brown the top.
Sliced Brussel Sprout Salad with Pancetta
Need a tasty salad idea? Try our trick for getting crunchy, savory goodness into every bite! We've been stealing the show with our Brussels Sprouts Salad with Pancetta and Gruyere Cheese for years.
Ingredients:
1 lb. Brussels Sprouts
½ C. Walnuts, coarsely chopped and lightly toasted
2 slices Canyon Bakehouse Gluten-free Mountain White Bread, stale and grated into coarse crumbs
¼ C. Gruyere, grated
4 Slices Thick Bacon, cut crosswise into ¼ inch strips
2 Tbsp. Bacon Fat
2 Tbsp. Red Wine Vinegar
1 tsp. Dijon Mustard
Salt and Pepper
Directions:
Using a mandolin or a chef's knife, slice the Brussels sprouts into a bowl.
Combine the chopped, toasted walnuts with the breadcrumbs and set aside.
Cook the cut bacon in a pan over medium heat until crispy. Retaining the bacon fat, spoon off the bacon and set aside.
In a small bowl, whisk together the bacon fat, red wine vinegar, and Dijon mustard.
To serve, toss the salad with the warm dressing and top with grated gruyere and breadcrumb mixture. Season with salt and pepper to taste.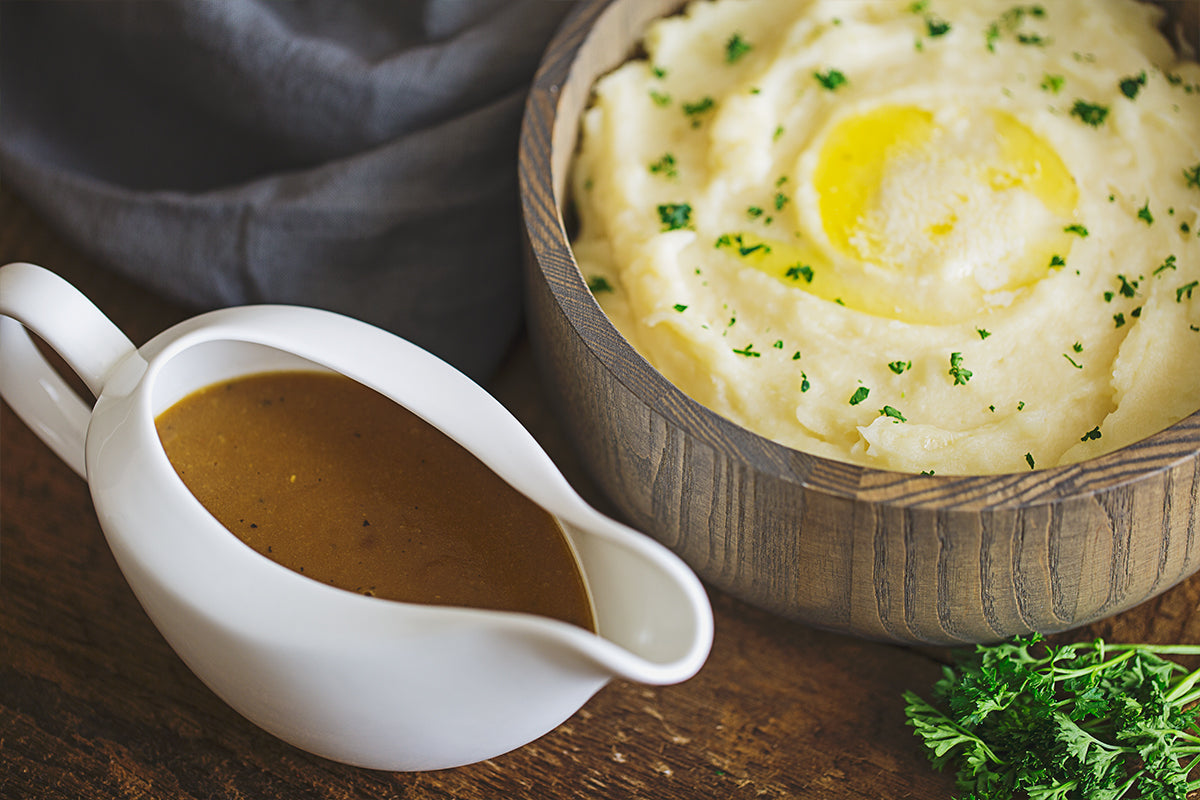 Traditional Gluten-Free Gravy
Our recipe for gluten-free turkey gravy is so special; it's served in a boat! And there's another reason for that – everyone loads up on this silky smooth and savory sauce.
Ingredients
1 Shallot, chopped
1 ½ C. of Turkey Drippings
1 Stick of Butter
1/3 C. of Gluten-free Flour
1 tsp. of Dried Thyme
Salt and Pepper
Directions:
In a large saucepan, melt the butter on medium heat and cook your shallot for about 5 minutes.
Stir in your turkey drippings and slowly add the gluten-free flour, mixing as you sprinkle it in.
Turn down the heat to low and add the thyme, salt, and pepper.
Let cook for 10 minutes. Serve warm.
Sweet Potato Stuffing Bake with Sausage and Kale
We all have a go-to stuffing recipe. This satisfying side dish could just about hold its own at the Thanksgiving table! Why not something a little heartier and gluten-free?
Ingredients:
1 lb. Pork Italian Sausage, casings removed and torn into pieces
6 Tbsp. Butter
2-3 Leeks, thinly sliced
2 C. Peeled, Cubed Sweet Potato
1 Bunch Italian Kale, spines removed, chopped
Salt and pepper, to taste
1 loaf Canyon Bakehouse Ancient Grain Bread, cubed
½-1 C. Small Cubed (1/2- inch) Fontina Cheese
1-2 C. Chicken Stock
1 Egg, whisked
½ C. Grated Parmesan Cheese
Directions:
Preheat the oven to 350 degrees and prepare a 9×11 baking dish with butter or cooking spray.
Place a skillet over medium heat and add the sausage pieces. Once browned, transfer to a large mixing bowl.
Add 2 Tbsp. butter to the pan. Once melted, add the sliced leeks and sweet potato. Sauté the vegetables until softened.
Add the kale to the vegetables and continue to sauté, about 2 minutes. Season with salt and pepper.
Melt the remaining butter. Add the sautéed vegetables to the mixing bowl with the sausage and pour the melted butter on top.
Add the cubed bread to the bowl and toss the mixture.
Pour the mixture into the prepared baking dish. Add the cubed cheese, tucking it into the gaps.
Whisk stock and egg together in a large liquid measuring cup and pour the mixture over the stuffing. Season with salt and pepper.
Top the stuffing with a thin layer of parmesan cheese and bake for 30 minutes, until bubbly and just browned.
Download our Gluten-Free Thanksgiving eBook!
We're sending lots of love around the table this year with gluten-free recipes for all the classics you crave, plus a few fresh takes. Need a little more help on the side? Lean this way and check our holiday e-book, Gluten-Free Thanksgiving! We'll bet this holiday meal is your best one yet. Happy Thanksgiving from our family to yours!